Tractor Attachments
From the earliest days of farming mules were used to help pull heavy loads and plows, and when the first tractors came along, many farmers thought they would quickly fade out and farming would stay the same. Now we see that tractors are a necessary piece of equipment for any farm, big or small, and many land owners who do not farm also own tractors because of their versatility. Tractor attachments are what makes this versatility possible, because just by changing the loader bucket on the front of your tractor, you can have a sweeper, a pallet moving vehicle, or many other useful tools for work around the farm or yard. Another aspect of tractor attachments is the ability to mount attachments on the 3 point connection located at the back of the tractor, allowing for easy access to the PTO shaft that receives turning power from the engine of the tractor, allowing it to turn with high torque and drive attachments such as tillers, mowers, augers and many more.

Tractor attachments have been created for almost any kind of job you can think of in a yard or on a farm, the most popular attachments include: aerators, pluggers, augers, backhoes, bale unrollers, leaf blowers, boom poles, box blades, cement mixers, chain harrows, cultipackers, cultivators, disc harrows, disc mowers, drag harrows, fertilizer spreaders, grooming mowers, flail mowers, garden bedders, harley rakes, bale forks, hay lifts, hay rakes, land levelers, landscape rakes, buckets, post handlers, scrape blades, manure spreaders, pallet forks, pine straw rakes, plows, middlebusters, potato plows, post drivers, post hole diggers, generators, yard pulverizers, rippers, field cultivators, root grapples, rotary cutters, tillers, scoop pans, sprayers, straw blowers, subsoilers, sweepers, trenchers, wood chippers, and lawn vacuums.
The tractor loader has come into the lives of many that work on farms, and they have adapted it to a versatile machine that can tackle any job as long as you have the right attachment, so trust your machine to us here at Everything Attachments where our roots in the farming industry can be traced back over 150 years when the mule ruled the field. The members of our team have been on these machines most of their lives, so no one online or otherwise has the knowledge and expertise that we do.
Check out our line of American Made attachments that we manufacture right here in Newton, NC

Prepping Your Attachment Arsenal
January, 2012 Compact & Utility Tractor Newsletter
---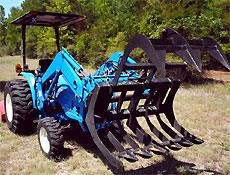 What would a tractor be without attachments? Every time a new attachment is added to your arsenal, you open up Pandora's box of new projects you can take on. Whether you have a wide variety of attachments already or you feel content with just a loader, why not explore the possibilities of owning one or two more?

Often times, we know what we want done, but we have no idea what attachment is right for the project. So we try to make it happen with what we have, but come up short or worse, damage our tractor! Like this member whose grapple broke when he picked up a tree stump that was too heavy, it's important to know the limits of your tractor and attachments. Read more about his experience: click here.

We are excited for the possibilities of 2012 and hope you are too. So let's gear up and start it off right! This month, you'll find our usual highlights including the latest hot thread topics, tractor life products to enhance your country lifestyle, our new member of the month, and more!

Below, click the photo links to learn about new attachments as well as gain further insight on how to operate your current weaponry. Learning about attachments and their proper usages will help you as you're problem-solving tasks on your property. You may even find one or two new attachments you can put into action on your farm or homestead!

Happy New Year,

TractorByNet.com